Introduction to the Material Resources of the Rio Fernando Fire Department
The RFFD fire department operates out of a Main Station and a Substation. The RFFD Main Station is located at 26566 Highway 64 East. The RFFD Substation is located at 259 1/2 Highway 64 East.
---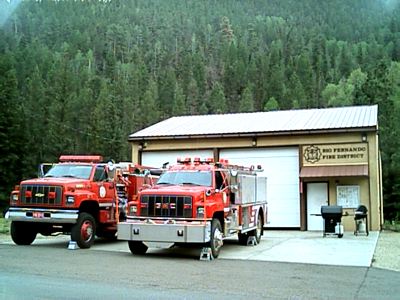 The RFFD Main Station, near mile marker 265, housing Tender 1 and Engine 4. Built primarily by department personnel, the Main Station is the center of Rio Fernando Fire Department operations. This is where we gather to attack fires, for communications, equipment maintenance and Thursday evening 'drills' - part of our continuing firefighting and EMS education. The Main Station also serves as a gathering place for community events. We plan to one day build a new 2-story Main Station with 5 truck bays on the site of our current Substation. The current Main Station would then become the Substation.
---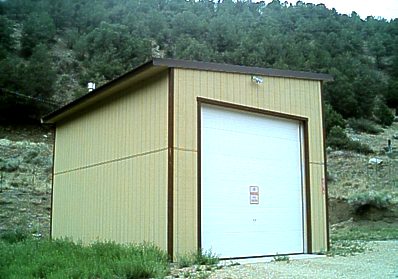 The RFFD Substation, near mile marker 259 1/2, housing Engine 1. The Substation was constructed as a temporary shelter designed just big enough to protect Engine 1 from the elements. We plan to build a new Main Station here in the future.
---
Engine #1 (Not Pictured) - Wildland Type 6 - 1976 Ford F-600 4x4 - 450 Gallon Tank and 250 GPM Pump Engine 1 has a long and beloved history in the Rio Fernando Fire Department. A combination medical and firefighting rig, this engine is a versatile tool outfitted for responding to wildland, rescue and medical calls. Engine 1's gearing, engine and ground clearance allow it to go nearly anywhere.
---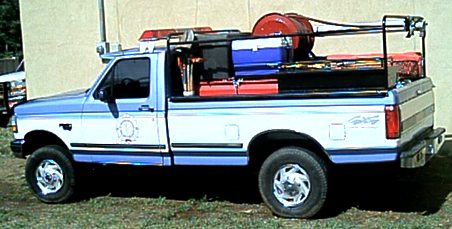 Engine #2 - Wildland Type 6 - 1996 Ford F-350 4x4 - 220 Gallon Tank and 200 GPM Pump
Engine 2 is a departmental workhorse, responding to virtually all wildland fire calls. A converted Ford pickup, Engine 2 has speed, power, off-road maneuverability and light weight. Equipped for 'quick attack' with redline hose, foam system, water tank and pump, it packs a lot of rapid response fire fighting ability into a small package. We can get this truck into position fast, putting water on the fire immediately as our larger capacity Engines and water Tender get into place.
---
Engine #3 - Service Truck - 1964 Ford F-350 2x4 - 450 Gallon Tank and 250 GPM Pump - Currently not in service -
---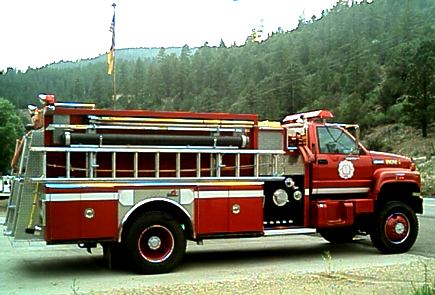 Engine #4 - Structural Class A Pumper - 1995 GMC Kodiak 4x4 - 1000 Gallon Tank and 1000 GPM Pump
Loaded with fire fighting tools including three quickly deployable 'pre-connect' hoses, several hundred feet of additional large diameter hose and four SCBA (Self Contained Breathing Apparatus) packs, Engine 4 is the department's choice when it's time to bring out the big guns. When supplied with water by the Tender, Engine 4 has tremendous ability to fight structure and wildland fires. Engine 4's brawn is not without drawbacks: its height can be problem on overgrown forest roads and many of the bridges in the canyon cannot support its weight. In most places however, Engine 4's powerful engine and 4x4 drive train can overcome obstacles and get the job done.
---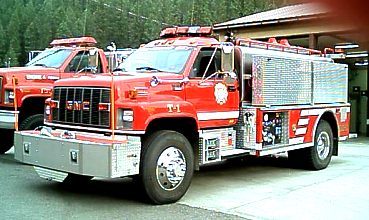 Tender #1 - Wildland Type 3 - 2001 Chevy 2x4 - 2100 Gallon Tank and 500 GPM Pump
Tender 1 has two quick attack 'pre-connect' hoses on the front as well as hose connection points on both sides. It is equipped to function as a 'pumper' but its primary job is water supply. The Tender's pump can also 'draft' water from sources such as the Rio Fernando, a 'dry' (non-pressurized) hydrant or a pond. The Tender takes the water to where it is needed and dumps into the first of its two 'folda-tanks' which have been deployed in series to supply water continuously to an engine pumping water onto the fire. The 2100 gallon water tank makes the Tender very heavy at over 4 tons just in water. As with Engine 4, there are some bridges that won't support it and in some off-road places in our canyon that you wouldn't want to attempt unless you absolutely had to. The lighter Type 6 Engines are used in those situations.
---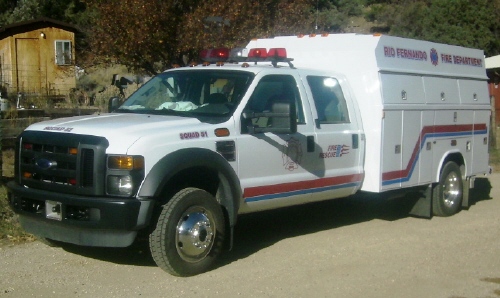 Squad #51 - 2008 Ford F 550- Cascade System, breathing air, 2500 watt generator, Forcible Entry, salvage, EMS First Response, rescue.
---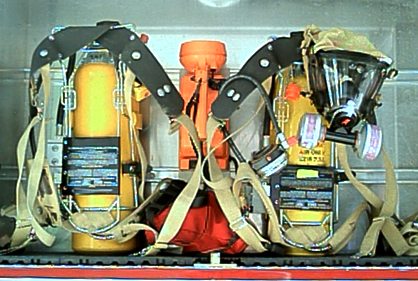 SCBA packs are worn to provide breathable air in hazardous conditions.
---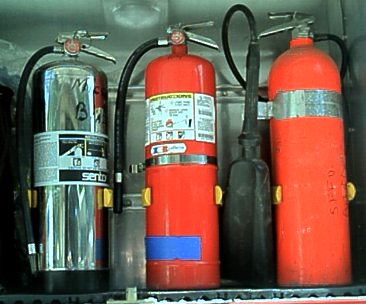 Left: Class A water extinguisher with MicroBlaze. Used ONLY for paper or wood fueled fires (Class A). MicroBlaze contains a bacteria that cleans soil damaged by oil or fuel products. We clean the road with MicroBlaze when a wreck leaves oil or fuel behind.
Middle: Class ABC general purpose extinguisher. Used for paper/wood fires (Class A), burning liquids (Class B) and electrical fires (Class C).
Right: Class BC CO2 (Carbon Dioxide) extinguisher. Used for burning liquids (Class B) and electrical fires (Class C).
IMPORTANT: Never use a class 'A' extinguisher (containing water) on burning liquids or an electrical fire as it can result in fire spread or electrocution.
---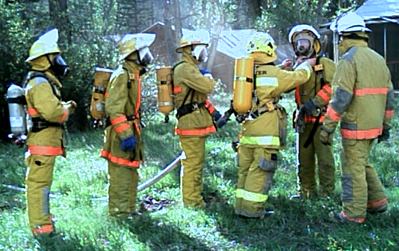 RFFD firefighters are issued 2 sets of PPE (Personal Protective Equipment). One set is for wildland firefighting ('forest fires') and is made of 'Nomex', a lightweight fire resistant material. The second set, shown above and below, is called 'bunker gear' and is heavily insulated to protect a firefighter during building fires. Above: firefighters drill in double-checking their partner's bunker gear before entering a burning structure.
---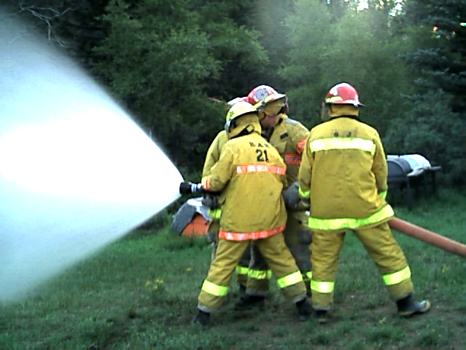 One of the primary tools of firefighters is hose. Fire hose is durable and can handle high pressure from the inside and high heat from the outside. Charged hose can recoil with the force of several hundred pounds of water. Above: safe control of a charged hose requires several firefighters working together as a team.
---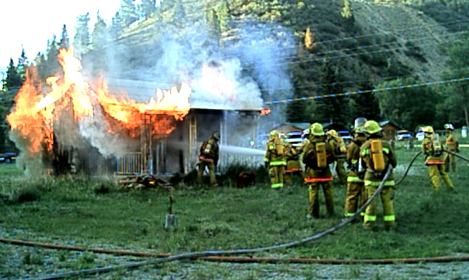 When fire foam solution is added to water, it makes the water 'wetter'. The solution is sprayed through special nozzles that mix in air. The foam helps the water penetrate and cover better than water alone. Here we are drilling with CAF equipment (Compressed Air Foam). We borrowed the unit from another department with outstanding results. This structure fire was knocked down in seconds.
---