In Case of Emergency:

Rio Fernando Volunteer
Fire District

26566 East US Highway 64
Taos, NM 87571
USA
Phone: 575-751-1608
rffd@rffd.org

Community Notes
We are a rural fire department located between Taos and Angel Fire NM, proudly protecting 850 people living in an area of about 60 square miles. The area covered by our district includes Taos Canyon, Shady Brook, and El Valle Escondido, as well as the surrounding areas. Fire operations often require supporting the Forest Service in eliminating fires in the surrounding Carson National Forest as well. Our department is a public department whose members are on a volunteer status. We have an ISO rating of 9. We are now working on an ISO rating of 8 or lower by upgrading equipment and training, and by installing dry-hydrants at ponds located in our district. Our primary water source now is a small stream running through our community. Rio Fernando also provides First Responder EMS care to the residents of the Rio Fernando Fire District.
Our district is dependant upon the Rio Fernando as our primary source for fire fighting water, we are counting on mutual/automatic aid from Taos, Colfax County and Angel Fire Fire Departments.
We are still offering containers of Fire Blocking Gel for household protection. This is the wonder stuff that can keep your house safe in a wildfire. We don't do this often, so contact us at 575-751-1608 to place your order now. If you aren't familiar with this remarkable gel from the last time we made it available to homeowners, ask us about it. It is definitely worth your time. If a wildfire is coming towards your home, you hook this container to your water hose and spray your house with it. The gel will tremendously increase the fire resistance of your home, and thus the odds of our being able to save it from the fire.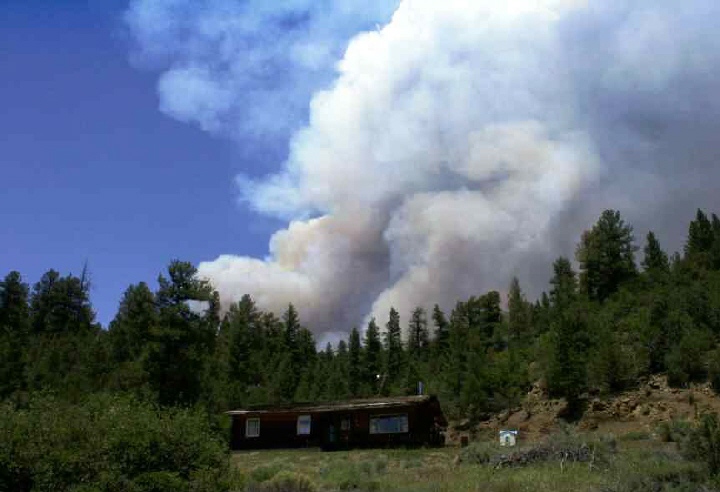 Encebado Fire smoke column from Taos Canyon. Photo by Barry Holfelder
Summary of Current Fire Restrictions Affecting You!
Taos County has passed Ordinance 2018-3 (replacing Ordinance 2006-6)
establishing an Open Burn Policy.
For more information on wildland fires in New Mexico:
Please use the forest safely. Carelessness can destroy life or property.
Please help us do our job by observing all fire regulations and by notifying us of unsafe conditions that you might see.
Remember, all brush, grass, slash and other burns in the district require a permit from the fire marshal.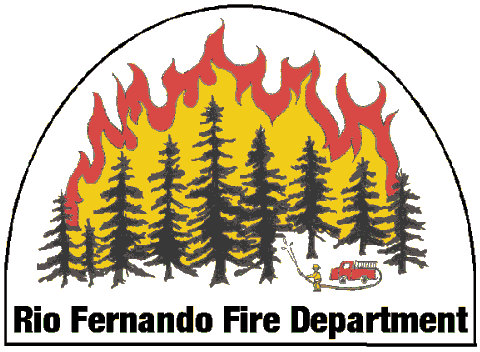 We Belong to These Organizations:
New Mexico State Fire Fighters' Association
Enchanted Circle Regional Fire Protection Association
Enchanted Circle EMS
Support Your RFFD Volunteers
Contribute to our fund drives or contact us about donating time or other services.
The RFFD is a 501(c)(3) nonprofit corporation.
Please send questions or comments about our website to rffd@rffd.org